Top 11 Benefits of Guava, Nutritional Facts, & Healthy Recipes – Guava, also known as "Amrood" in Hindi is round / oval and is full of small hard seeds in the center.
Is believed to be native to Central America, guava not only has a versatile inner and outer layer but also has a unique flavor and fragrance. It was hailed as one of the best super fruits, because of the many health benefits it offers.
A powerful source of nutrients, guava is rich in antioxidants, vitamin C and A, lycopene, calcium, manganese, and potassium. In addition, guava is low in calories, high in fiber, and makes a great addition to your daily diet.
Table of Contents
Before delve deeper, let's take a look at what 1 cup of this delicious green fruit has to offer in terms of nutrients:
Nutritional Facts
Calories – 112
Protein – 4.2 grams
Fats – 1.6 grams
Carbs – 23.6 grams
Fiber – 8.9 grams
Sugar- 14 grams
Vitamin C – 377 Milligrams
Now we've seen the nutritional information of this super, you're probably wondering how you will support your health? Let's take a look at its many health benefits in the section below:
11 Health Benefits of Guava
1. Helps Build Immunity
Guayabas are rich sources of vitamin C and contain almost 4 times the vitamin C in oranges. Vitamin C plays an important role in improving your immune system and protects against common infections killing bad bacteria and viruses. Furthermore, guava increases iron absorption, which immunity levels are maintained their body and getting stronger.
2. Diabetic-friendly Fruit
Guava is a good source of fiber and has a low glycemic index, so it is friendly diabetic. How it helps it is that – while the low glycemic index inhibits a sudden increase in blood sugar, fiber content ensures sugar levels are well regulated. Therefore, it is recommended to be one of the best fruits to be consumed by diabetics and those looking to prevent diabetes.
3. Keeps the heart hale and healthy
Guava contains high amounts of potassium and sodium, which helps to regulate high blood pressure in patients suffering from hypertension. According to a recent study, eating guava mature before meals caused a decrease in blood pressure, reduced total cholesterol and increase "good" cholesterol by 8%. All these factors contribute to improving the health of the heart.
4. Helps in Treating Constipation
Guava contains high amounts of dietary fiber compared with other fruits. One guava contains 12 percent of your fiber intake so it is very beneficial for healthy bowel movements and digestive health. In addition, the seeds of guava, when swallowed whole or chewed, act as laxatives excellent.
5. Aids weight loss
Guava is an excellent choice if you are looking to lose weight because it not only helps in regulating your metabolism, but also ensures that your intake of protein, fiber, vitamins and remain uncompromising. Furthermore, guavas to make a very hearty snack and keep you full for long.
6. "Good for Brain" fruit
Apart from the many nutrients mentioned above, guavas are also rich in vitamins such as B6 and B3, also known as pyridoxine and niacin respectively. These two vitamins help improve blood circulation in the brain, relax nerves and stimulate cognitive function.
Did you know? 
Guava benefits are varied, but the leaves of guava – contain more benefits than the fruit itself, according to several research studies. It is rich in phenolic compounds having antibacterial, avoiding one against infectious and parasitic diseases such as Staphylococci and Candida infections (yeast). Besides keeping safe from infectious diseases, guava leaves are very useful to relieve cough, cold, and work as a great home remedy for toothache, swollen gums and oral ulcers.
7. Improves skin health
If you are among the many who seek to keep fine lines and wrinkles away from your face, then guava is going to the fruit. Guava is rich in antioxidants such as lycopene and carotene, and vitamins A and C help protect the skin from various skin related issues.
Guava consumption helps recover brightness and freshness of the skin, keeping away problems such as discoloration, dark circles, redness, and acne. In addition, the fruit also helps tone and strengthen the muscles of the face, thus leaving her young and smooth.
8. Relieves stress
With the magnesium in fruit, guava helps to relax the muscles and nerves in the body. So, after a long day of work or grueling training session, enjoy some guava will not only relieve stress, but also give your system a good boost energy.
9. Helpful During Pregnancy
With Guava is rich in folate and vitamin B-9 acid, it is widely recommended for pregnant women as it helps in the development of the nervous system of the baby and protects the fetus from neurological disorders. Vitamin B present in the fruit allows cells to divide and helps the body to create DNA and genetic material to the fetus. Therefore, guava would be a great addition to your diet during pregnancy.
10. Helps Reduce the risk of cancer
The presence of antioxidants such as lycopene, quercetin, vitamin C, polyphenols and other body neutralize free radicals and prevent the growth of cancer cells. According to several studies, this fruit has shown results in reducing the risk of prostate cancer and to inhibit the growth of breast cancer cells.
11. Improves eyesight/vision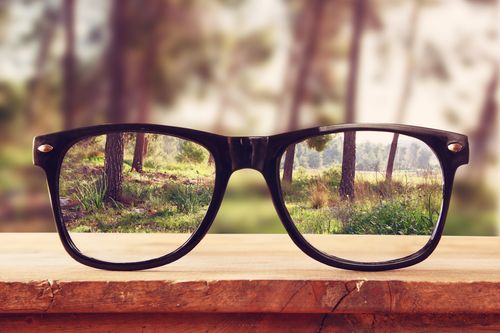 Guava is well known to boost eye health after carrots. Due to the presence of vitamin A, which not only prevents deterioration of sight but also helps to improve it. In addition, it also protects against cataracts and macular degeneration.
2. Best Nutritionist-approved Healthy Recipes using Guava
1. Guava Yogurt Smoothie 
Ingredients
Guava chopped 1 cup
Frozen banana slices – ½ cup
Low-fat yogurt – ½ cup
Ice cubes
Method
Blend all ingredients and serve chilled
Guava and pomegranate salad
2. Guava Pomegranate Salad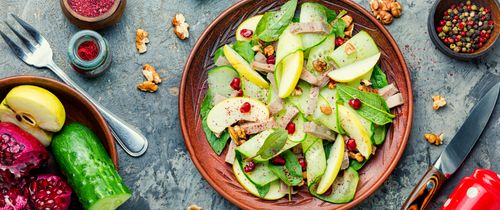 Ingredients
Guava chopped 1 cup
Pomegranate pearls 1 cup
Roasted peanuts 1 tbsp
Mint chopped 1 tbsp
Dressing –
Lime juice 1 tbsp
Black salt – ¼ tsp
Cumin powder – ¼ tsp
Red chilli powder – ¼ tsp
Chat masala – ¼ tsp
Method
Mix the ingredients for the dressing
Combine the fruits, peanuts, mint and dressing in a bowl and mix well
Summary
Guava is a fruit, although very underrated, offers several health benefits, even our grandmothers guarantee. Its unique taste, flavor and fragrance that sets it apart from other fruits. His versatility in nutrients offering makes it one of the best fruits to add to your daily diet.
It has been hailed to be a super because of its richness in antioxidants, vitamins and minerals that help in normalizing BP, sugar levels, heart disease, and also in maintaining healthy and hydrated.
Therefore, if you are looking for a fruit that will not only stay healthy, but will provide all the nutrients needed for the proper functioning of your body, then look no further, guava is the answer to everything.
Frequently Asked Questions (FAQs)
Q. How often can one eat Guava in a day?
A. One can include 1 to 2 guavas in a day, as mid day snacks, either in mid morning or evening.
Q. What is the ideal amount of guava one can eat in a day?
A. 80 to 100 grams of guava is ideal as one portion in a day.
Q. Are guava seeds harmful for the body?
A. No, guava seeds have numerous health benefits because of its high fibre content such as relieving constipation, acidity as well as promoting satiety.
Q. If consumed too much, what are the side effects guava can have on the body?
A. The high fibre in guava can cause loose motions and bloating if consumed in excess.
Q. What is the best time to eat Guava?
A. Any fruit such as guava is best consumed as a midday snack or can be added for breakfast as smoothie or in a salad as well.
Original Article Source link